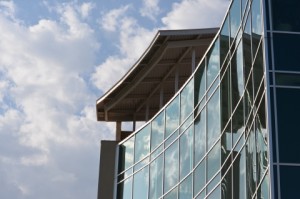 Many people have heard of window tinting for vehicles and residential homes, but did you know that office window tinting can be a smart business decision as well? The tinting experts at Accu Tint have had the pleasure of serving many businesses in the Nashville area. While there are many cases in which office window tinting and lettering is purely aesthetic, it can also deliver a plethora of behind-the-scenes benefits as well. Keep reading to find out how window tinting can benefits your business!
Retain A Beautiful Look
Glass windows make buildings look beautiful and bring a lot of warmth to the interior of an office. The only problem is that lots of windows typically translate into lots of sunlight, which in turn translates into damaging UV rays, glare on computer screens, and yes, higher indoor temperatures. Office window tinting allows you to address all of these issues at once, while at the same time retaining the beautiful look of your building's exterior windows.
Reduce Utility Costs
As mentioned above, with sunlight comes heat. This is great in the winter time, but not so much in the hot, humid, Nashville summers. Commercial window tinting has been shown to reduce the average internal temperature of an office by up to 15 degrees…and that's without turning on the air conditioning!
Privacy Without Blocking Natural Light
Although the light flowing in through your office windows does translate into heat, there's no artificial substitute for natural light. It's been shown to improve mood as well as save you money on lighting. Certain kinds of office window tinting will allow the light to flow through while also making it difficult for passersby to see in the window. If privacy is a concern for your industry, window tinting could be an attractive solution.
Want to learn more about the office window tinting services we offer at Accu Tint? Contact one of our technicians today!